Celene Nox video review!
Europe's favourite shiny fashion queen Celene Nox tries on and reviews our Vortex Catsuit - spolier alert, she loves it! Watch the full, super shiny video review over at Youtube:
Vawn & Boon
We are the PVC catsuit experts. Vawn & Boon is a UK based company, that caters for the top end of the PVC fetish wear and cosplay markets. We are highly regarded for the material, pattern cut, grade and ultimately — the sexy, skin tight fit of our Vortex and Vitruvian catsuits.
We also craft and sell a wide range of speciality items for crossdressers!
If an item is displayed as in stock on the website — it's ready for an immediate secure dispatch. Scroll down to the foot of this page to learn about our discreet packaging, more about us and our solid no-nonsense return policy!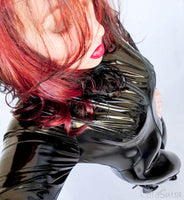 Vawn & Boon catsuit review!
VB Group Ltd T/A Vawn and Boon Registered in England and Wales Company No: 09537836
Vawn and Boon © is a registered trademark